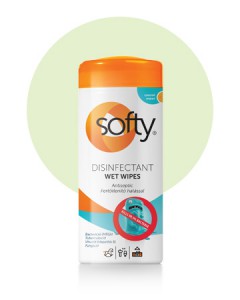 Softy Disinfectant
It is the cold and flu season upon us.
We can help keeping your family healthy during this period.
It is easier to prevent than fighting against bacteria and viruses!
Softy Disinfectant surface disinfectant wet wipes can be used on all washable surfaces occuring at home, such as:
Bathroom
Bath
Shower tray
Toilet seat
Lavatory
Shower curtain
Kitchen
Sink
Garbage containers
Refrigerator
Kitchen counter
Inside the house
Door handles
Telephones
Light switches
Outside the house
Garden furniture (plastic, wood and rattan chairs and tables)
Office furniture
Desks
other outdoor resorts, where hygiene is important
Around children
Changing table, nappy container
Crib
Potty
High chair
Playpen
Pastic backpack
Plastic parts of child seat
With regular use, Softy Disinfectant wipes effectively help to stop the spread of bacterial and fungal infections.
Usage:
Disinfected surface or equipment has to be wiped thoroughly, not to leave untreated parts and then the surface has to be left to dry. Thus antimicrobal effect is kept after use.
Fertőtlenítésre:
Törölje át a fertőtlenítendő felületet, majd hagyja megszáradni.
Children's toys and surfaces with food contact must be flushed with drining-water before use!